Sobre nosotros
Sher E Punjab te ofrece la más exquisita variedad de Oriental que puedes encontrar en Palma de Mallorca. Ven a visitarnos o haz tu pedido online. Verás como te sorprenderemos con nuestras especialidades.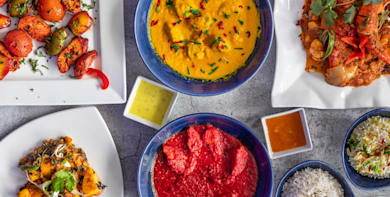 Opiniones
36 comentarios
Scott
"Absolutely delicious !! The best curry house on Just Eat and we have tried them all!! :)"
24/04/2021
Placton
"La carne muy rica y en abundancia (tikka masala). El nan de queso no ha estado muy bien, ya que no tenía mucho queso. Las verduras pakora muy ricas."
21/03/2021
Menú
Papadum
Barquillo frito / Fride wafer 
0,75 €
Dal Soup
Sopa de lentejas / Lental Soup
4,00 €
Sopa de Pollo
Soup Chicken
4,00 €
Vegetable Pakora
Bolitas de masa rellenas de verduras con especias /  Vegetables fried spices, made with gram flour
3,50 €
Onion Bhaji
Bolitas de masa rellenas de cebojlla y especias / Onion coated with gram flour and fried
3,50 €
Vegetable Samosa
Pan hindú relleno de verduras / Pastry with vegetable filling.
Contiene gluten, huevos y leche
4,00 €
Keema Samosa
Empanada de carne picada sazonada / Pastry with mince meat filling
Contiene gluten, huevos y leche
4,50 €
Chicken Pakora
Brochetas de pollo con especias / Cabe chicken breast with special herbs
4,50 €
Seek Kebab
Brocheta de carne / Skewered meat
4,95 €
Alitas de Pollo
Ración de pollo escabechado a la parrilla / Chicken wing cooked in tandoor
4,95 €
Pollo Tikka
Pinchito de pollo sazonado a la parrilla / Pieces of chicken grilled on charcoal.
Contiene lácteos
4,95 €
Cordero Tikka
Pinchitos de cordero sazonado a la parrilla / Piece of lamb on charcoal.
Contiene lácteos
5,50 €
Pescado Pakora
Pescado frito con harina de garbanzos / Cubes of haddade deep fried with gram flour.
Contiene glúten y pescado
5,50 €
Gambas Poori
Pan hindú frito con gambas y especias / Prawn with herbs and spices on poori.
Contien gluten, crustáceos y lácteos
6,95 €
Salsa de Yogur
Raita.
Contiene lácteos
2,95 €
Patatas Fritas
French fries
3,00 €
Aloo Tikki
Contiene gluten
3,50 €
Sher e Punjab Entrantes Mixtos
Sher e Punjab mix startes
8,95 €
Sher e Punjab Tandoori Mix Grill
Pollo, cordero, carne picada, gambas y salsa curry / Chicken, lamb, minced meat, prawn an vegetable souce
12,95 €
Tandoori Chicken Tikka
Brocheta de pollo escabechado y salsa / Bonless pieces of chicken marinated and grilled and curry
10,95 €
Chicken Shashlik
Pollo marinado con cebolla, pimienta verde, salsa vegetales y champiñones / Chicken marinated with onion, green pepper, vegetable sauce and mushrooms
11,95 €
Chicken Tandoori
Pollo escabechado al horno / Chicken marinated and grilled and curry
10,95 €
Seek Kebab
Carne picada escabechada al horno y salsa / Skewered meat marinated and grilled and vegetable curry
10,95 €
Langostinos Tandoori
King Prawn Tandoori.
Contiene crustáceos
13,95 €
Arroz con Pollo
Chicken Biryani.
Contiene frutos secos
9,95 €
Cordero con Arroz
Lamb Biryani.
Contiene frutos secos
10,95 €
Pollo con Champiñones y Arroz
Chicken with mushroom Biryani.
Contiene frutos secos
9,95 €
Pollo con Gambas y Arroz
Chicken and Prawn Biryani.
Contiene frutos secos
11,95 €
Pollo y Cordero con Arroz
Chicken and lamb Biryani
Contiene frutos secos
11,95 €
Cordero con Gambas y Arroz
Prawn and lamb Biryani.
Contiene frutos secos
11,95 €
Arroz con Verduras
Vegetable Biryani
Contiene frutos secos
9,95 €
Sher e Punjab Biryani
Contiene frutos secos
12,95 €
Palak Paneer
Contiene lácteos
7,95 €
Mutter Paneer
Contiene lácteos
7,95 €
Malai Kofta
Contiene lácteos
7,95 €
Saag Aloo
Contiene lácteos
7,95 €
Curry Pakora
Contiene lácteos
7,95 €
Dal Makhani
Contiene lácteos
7,95 €
Arroz al Limón
Lemon Rice
3,50 €
Arroz con Champiñones
Mushroom rice
3,95 €
Arroz Frito con Huevo
Egg Fried Rice.
Contiene huevos
3,50 €
Arroz con Verduras
Vegetable rice
3,50 €
Ensalada Verde
Frech green salad
3,95 €
Pan
Plain nan.
Contiene lácteos y gluten
2,50 €
Pan de Ajo
Garlic nan.
Contiene lácteos y gluten
3,50 €
Pan con Queso
Cheese Nan
Contiene lácteos y gluten
3,50 €
Pan con Ajo y Queso
Garlic and cheese nan
Contiene lácteos y gluten
3,50 €
Peshawari Nan
Contiene lácteos y gluten
4,00 €
Keema Nan
Contiene lácteos y gluten
4,00 €
Chapati
Contiene lácteos y gluten
2,00 €
Tandoori Chapati
Contiene lácteos y gluten
2,00 €
Poori o Bhtoora
Contiene lácteos y gluten
2,50 €
Nuggets de Pollo
Chicken nuggets
4,50 €
Pechuga de Pollo a la Plancha
Chiocken breast grilled
4,50 €
Palitos de Pescado
Fish fingers
4,50 €
Pollo al Curry
Chicken Curry
7,95 €
Cordero al Curry
Lamb Curry
8,95 €
Gambas al Curry
Prawn Curry.
Contiene crustáceos
9,95 €
Ternera al Curry
Beef Curry
8,95 €
Verduras al Curry
Vegetable Curry
7,95 €
Pollo con Champiñones al Curry
Chicken and Mushroom Curry
8,50 €
Pollo con Mango al Curry
Chicken and Mango Curry
8,95 €
Gambas Saag
Prawn Saag.
Contiene crustáceos
9,95 €
Pollo Bhuna
Chicken Bhuna
7,95 €
Gambas Bhuna
Prawn Bhuna.
Contiene crustáceos
9,95 €
Verduras Bhuna
Vegetables Bhuna
7,95 €
Pollo Dansak
Chicken Dansak
7,95 €
Cordero Dansak
Lamb Dansak
8,95 €
Ternera Dansak
Beef Dansak
8,95 €
Gambas Dansak
Prawn Dansak.
Contiene crustáceos
9,95 €
Pollo Jalfrezi
Chicken Jalfrezi
7,95 €
Cordero Jalfrezi
Lamb Jalfrezi
8,95 €
Ternera Jalfrezi
Beef Jalfrezi
8,95 €
Gambas Jalfrezi
Prawn Jalfrezi.
Contiene crustáceos
9,95 €
Paneer Jalfrezi
Paneer Jalfrezi
7,95 €
Pollo Korma
Chicken Korma
7,95 €
Gambas Korma
Prawn Korma.
Contiene crustáceos
9,95 €
Verduras Korma
Vegetables Korma
7,95 €
Pollo Masala
Chicken Masala
7,95 €
Cordero Masala
Lamb Masala
8,95 €
Ternera Masala
Beef Masala
8,95 €
Gambas Masala
Prawn Masala.
Contiene crustáceos
9,95 €
Pollo Vindaloo
Chicken Vindaloo
7,95 €
Cordero Vindaloo
Lamb Vindaloo
8,95 €
Ternera Vindaloo
Beef Vindaloo
8,95 €
Gambas Vindaloo
Prawn Vindaloo.
Contiene crustáceos
9,95 €
Verduras Vindaloo
Vegetables Vindaloo
7,95 €
Pollo Pasanda
Chicken Pasanda
7,95 €
Cordero Pasanda
Lamb Pasanda
8,95 €
Ternera Pasanda
Beef Pasanda
8,95 €
Gambas Pasanda
Prawn Pasanda.
Contiene crustáceos
9,95 €
Verduras Pasanda
Vegetables Pasanda
7,95 €
Pollo Kashimiri
Chicken Kashimiri
7,95 €
Cordero Kashimiri
Lamb Kashimiri
8,95 €
Ternera Kashimiri
Beef Kashimiri
8,95 €
Gambas Kashimiri
Prawn Kashimiri
Contiene crustáceos
9,95 €
Verduras Kashimiri
Vegetables Kashimiri
7,95 €
Pollo Rogan Josh
Chicken Rogan Josh
7,95 €
Cordero Rogan Josh
Lamb Rogan Josh
8,95 €
Ternera Rogan Josh
Beef Rogan Josh
8,95 €
Gambas Rogan Josh
Prawn Rogan Josh
Contiene crustáceos
9,95 €
Pollo Madras
Chicken Madras
7,95 €
Cordero Madras
Lamb Madras
8,95 €
Ternera Madras
Beef Madras
8,95 €
Gambas Madras
Prawn Madras
Contiene crustáceos
9,95 €
Verduras Madras
Vegetable Madras
7,95 €
Pollo Dopiaza
Chicken Dopiaza
7,95 €
Cordero Dopiaza
Lamb Dopiaza
8,95 €
Ternera Dopiaza
Beef Dopiaza
8,95 €
Gambas Dopiaza
Prawn Dopiaza
Contiene crustáceos
9,95 €
Pollo Balti o Karahi
Chicken Balti o Karahi
9,95 €
Pollo Tikka Balti o Karahi
Chicken Tikka Balti o Karahi
10,95 €
Pollo Con Espinacas Balti o Karahi
Chicken with Spinach Balti o Karahi.
Contiene lácteos
9,95 €
Cordero Balti o Karahi
Lamb Balti o Karahi
9,95 €
Cordero Balti o Karahi
Lamb Balti o Karahi
10,95 €
Verduras Balti o Karahi
Mix Vegetables Balti o Karahi
8,95 €
Pollo Tikka Masala
Chicken Tikka Masala
10,95 €
Pollo Tikka Rogan Josh
Chicken Tikka Rogan Josh
10,95 €
Pollo Tikka Saag
Chicken Tikka Saag
10,95 €
Pollo Tikka Mango
Chicken Tikka Mango
10,95 €
Pollo Tikka Jalfrezi
Chicken Tikka Jalfrezi
10,95 €
Pollo Tikka Kashimiri
Chicken Tikka Kashimiri
10,95 €
Pollo Tikka Balti
Chicken Tikka Balti
10,95 €
Pollo Tikka Karahi
Chicken Tikka Karahi
10,95 €
Pollo a la Mantequilla
Butter Chicken
10,95 €
Cordero Tikka Masala
Lamb Tikka Masala
11,95 €
Cordero Tikka Jalfrezi
Lamb Tikka Jalfrezi
11,95 €
Cordero Tikka Saag
Lamb Tikka Saag
11,95 €
Cordero Tikka Rogan Josk
Lamb Tikka Rogan Josh
11,95 €
Sher e Punjab Khas
Carne mixta con gambas y champiñones cocido con Sher e Punjab masala especial.
Mixed meat with prawn and mushrooms cooked with Sher e Punjab masala.
Contiene frutos secos, lácteos y crustáceos
12,95 €
Chef Speciality
Pollo, cordero, gambas o ternera. Chicken, lamb, prawn or beef
Tomate fresco con castaña y crema fresca con especias especiales.
Fresh tomato with chestnut and fresh cream with special spices.
Contiene frutos secos, lácteos y crustáceos
12,95 €
Pollo Achari
Chicken Achari.
Mixed Pickled
10,95 €
Pollo Pathia
Chicken Pathia
Agridulce / Bittersweet
10,95 €
Cordero Achari
Lamb Achari
Mised Pickel
11,95 €
Cordero Pathia
Lamb PathiaAgridulce / Bittersweet
11,95 €
Gulab Jamun
Contiene lácteos y frutos secos
3,95 €
Kulfi
Contiene lácteos y frutos secos
3,95 €
Helado de Mango
Contiene lácteos
3,95 €
Tarta de Zanahoria
Contiene lácteos y frutos secos
4,50 €
Mango Lassi
Contiene lácteos y frutos secos
3,95 €
Salt Lassi
Contiene lácteos y frutos secos
3,95 €
Banana Lassi
Contiene lácteos y frutos secos
3,95 €
Mango Shake
Contiene lácteos y frutos secos
3,95 €
Vino Tinto Sangre de Toro
12,50 €
Vino Tinto Marqués de Cáceres (Rioja)
14,50 €
Vino Tinto Faustino VII (Rioja)
12,50 €
Vino Tinto Conde de Caralt
12,50 €
Vino Tinto Paternina Banda Azul
12,50 €
Vino Blanco Marqués de Cáceres (Rioja)
14,50 €
Vino Blanco Conde de Caralt
12,50 €
Vino Rosado Marqués de Cáceres (Rioja)
14,50 €
Vino Rosado Conde de Caralt
12,50 €
Contacta con nosotros
Encuéntranos
Avenida Joan Miro, 7, Palma de Mallorca, 07014
Horario de apertura
Por favor, ten en cuenta que el tiempo de entrega puede variar
Realizamos entregas en
07001, 07002, 07003, 07004, 07005, 07006, 07008, 07009, 07010, 07011, 07012, 07013, 07014, 07015